TNF Superfamily: focus on research
Tumor Necrosis Factors Superfamily
TNF-related products from Covalab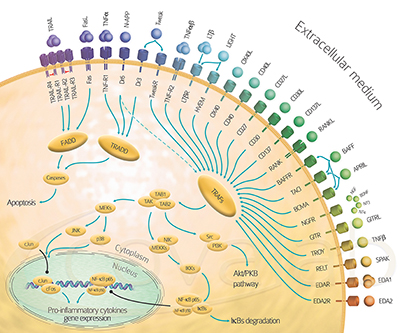 Click to enlarge the overview!
The tumor necrosis factor (TNF) superfamily (TNFSF) is composed of more than 20 structurally related proteins (ligands) that bind to one or more molecules from the TNF receptor superfamily (TNFRSF), a family of 27 structurally similar receptors. The TNFSF ligands are either membrane-anchored or soluble trimers that cluster their cognate cell surface receptors to initiate signal transduction. The unique structural features of the TNFSF ligands and receptors link these molecules to cell growth, cell survival or cell death, although some molecules can activate both inflammatory and cell death pathways, dependent on target cell types and other extrinsic stimuli.
Many of the TNFRSF molecules are expressed in cells of the immune system, which implies that they may be central to autoimmune and inflammatory diseases as well as cancer. However, their function is not restricted to immune cells. Members of these superfamilies have been linked to an array of pathophysiologies, including cancer, neurologic, cardiovascular, pulmonary, autoimmune and metabolic diseases.
TNFSF and TNFRSF genes have been found to display polymorphisms that are linked to human diseases, which implies that interventions targeting these molecules may be efficacious in treating several health-related problems. Therefore, it is not surprising that several biologics targeting molecules from the TNF or TNFR superfamilies are in ongoing clinical trials for autoimmune and inflammatory diseases and cancer.
Covalab provides numerous antibodies, proteins and kits targeting key components of this wide molecules superfamily. Discover these antibodies and more in the following list.
Browse our complete TNF Superfamily-related products range or click the tabs above to browse our ligand/receptor groups-specific sections.
Download Files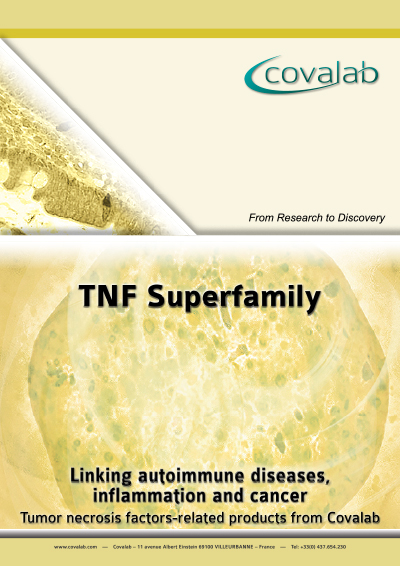 Download our dedicated brochure and find what you need among our TNF-related products!
Newsletter
Receive news, promotions and offers in your e-mail box