SHIPPING INFORMATION
Carrier
Our products are sent via Federal Express Intl. with the « International Express Priority » service. Click the following link or copy/paste it in your browser's address bar to have more information on this Fedex service: http://www.fedex.com/fr_english/shipping-services/international/export/
Delivery time
Orders received from Monday to Wednesday will be processed on the same week. Orders received from Thursday to Saturday will be handled on the following week. Delivery times vary from 1 to 6 days according to the destination, please contact our customer services at to request the estimated shipping time for your country.
Longer delivery time may occur due to holidays period or unexpected events. In such a case, you will be informed of the estimated delivery time (excluding shipping time as described below).
You can track your shipment at any time by visiting the Fedex website www.fedex.com or the TNT website www.tnt.fr. Please enter the tracking number communicated in your shipment confirmation email.
Orders shipped abroad may be subject to customs clearance procedures which may induce delays beyond the original delivery estimates.
Packaging
All products are sent in ice box with ice pack.
Shipping costs
Shipping and packaging fees will be charged for every shipment.
Handling and Packaging fees: 10.95 euros (excl. VAT) per shipment.
Shipping charges: depend on country, size and weight of the package.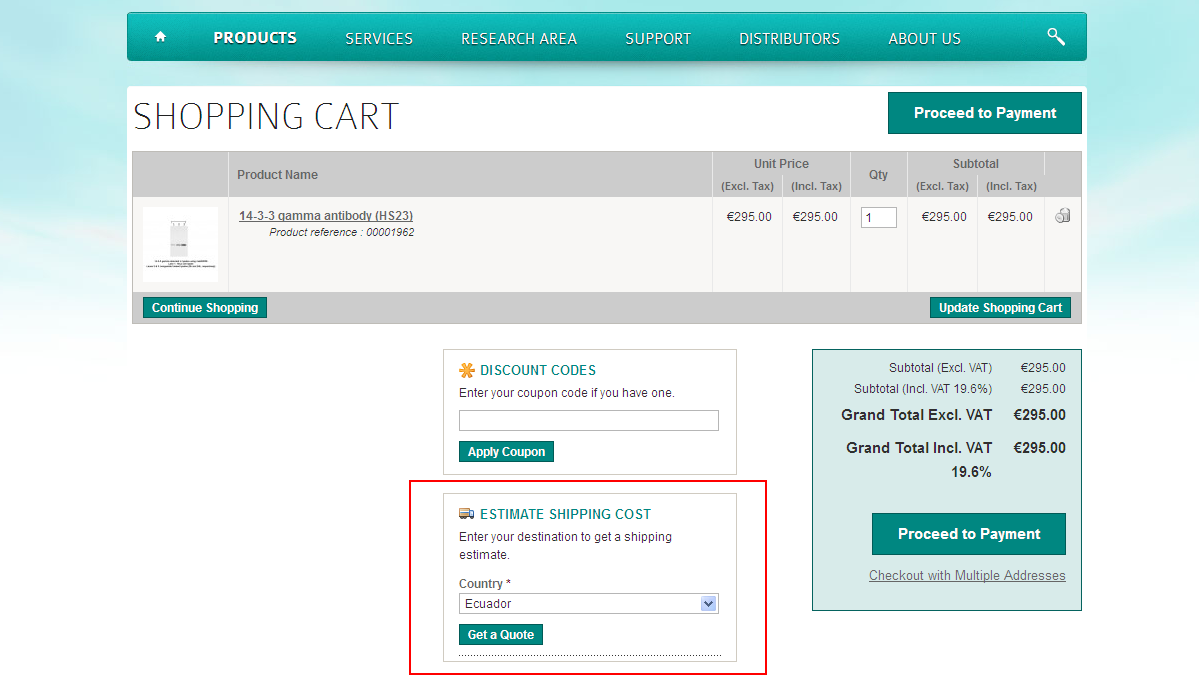 You can estimate your shipping costs when placing your order
online before validating your shopping cart.
Shipping area and limitations
Shipping area
Our products are available for sale worldwide. However, due to logistic and legal issues we might not be able to supply our products in all countries.
When creating your account to place your order online, you must fill in your shipping address. Should your country not appear in the drop down menu, please contact our customer service at to confirm the eligibility of your country for delivery.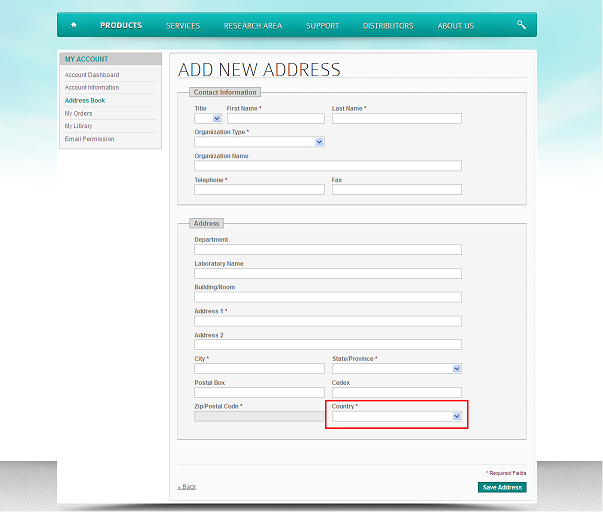 If your country does not appear in this drop-down menu,
you might not be eligible for delivery!
Shipping limitations
Orders that are shipped outside of the European Union may be subject to import taxes, customs duties and fees levied by the destination country. Please note that you should be able to provide any import license or similar document required by customs for the clearance.
We cannot not be held responsible for damages or loss occurring to goods after they are entrusted to the carrier, nor be held responsible for any failure to deliver a parcel resulting from:
import limitations
customs clearance failure regardless of the parcel's origin
errors in the details provided for delivery
absence of the addressee's name
Should the delivery be unsuccessful due to a failure to complete the customs clearance, you will be refunded within a week upon reception by our service of the package returned by the carrier.
Replacement request or refund of the damaged or lost items will be subject to our prior agreement and examined on a case by case basis.
All complaints will have to be sent to . The return instructions (if needed) will be provided once your request has been validated.
In any event, our liability will be limited to either:
the refund of the amount paid online when placing the order,
the replacement of the damaged or defective product.
Notice
All delivery terms specified in our general sales terms & conditions which are not modified by the terms hereby remain applicable for online orders.