CUSTOM MONOCLONAL ANTIBODY
About monoclonal antibodies
During the immune reaction, antigen-processing cells activate quiescent B-cells into plasmocytes to secrete immunoglobulins directed against that antigen. From the multiple plasmocytes clones involved in the immune reaction, each one can be isolated from the others by common cell culture techniques. Once isolated, this cell and its descendants produce identical immunoglobulins of the same subtype. These immunoglobulins are then called monoclonal antibodies, and share the same affinity and specificity for one single epitope of the desired antigen.
---
Advantages and drawbacks of monoclonal
ADVANTAGES

DRAWBACKS

In vitro production

The most reproductible experiments

Very high specificity for their epitope

Reduced risks of unexpected cross-reactivity

Very low background staining 

Large-scale production (up to miligrams in a week)

High technical skills required that our engineers hold

Much more time production than polyclonal antibody (up to 3 time)

Bigger budget than polyclonal antibodies
---
1

HYBRIDOMA DEVELOPMENT
Protocole overview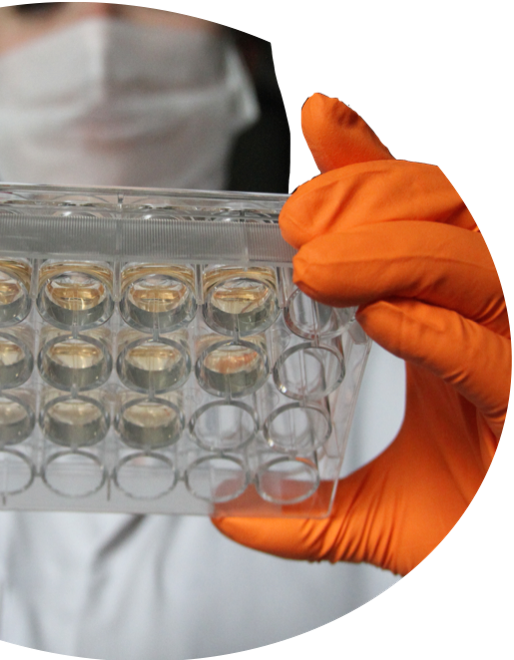 Firstly your project is discussed with our team, we help you to make the right decisions and personalize the process according to your goals.
Developing an antibody does not simply consist in immunizing an animal with a foreign molecule. It is the result of a careful thought about which molecule will be injected in which host animal depending on major parameters such as the specificity of the expected antibody.
At the beginning of the project, we provide you with a provisional calendar, reminding you the main steps of the protocol : injections, bleeds and deliveries.
IMMUNOGEN SELECTION

From various nature such as :

   -peptide, protein

   -inactivated virus, bacteria, yeast

-haptens

   -cells or tissue extracts

   -other (please contact us)

IMMUNIZATION

4 mice or 2 rats
exclusive 3-month protocol

ELISA assay on each test bleed 

FUSION

Splenocytes extraction

Fusion of spleen cells with myeloma cell line

Culture in HAT selective medium

SCREENING

ELISA tests on growing cell hybridomas

Cell expansion from each positive well

ELISA tests to confirm hybridoma stability

Partial isotyping (IgM or IgG) and freezing

CLONING

Choice of up to 6 positive clones for cell expansion

ELISA tests to confirm antibody production stability

Complete isotyping (isotype, class, subclass and light chain isotype) and freezing
---
Detailed protocol

IMMUNOGEN SELECTION
The immunogen selection is a critical step because the immunogen has to trigger the best immune response from the host. Depending on several parameters relative to the expected antibody, we can provide you with our expertise and bring you advice to determine the best strategy. The immunogen can be a protein, a synthetic peptide with or without a post-translational modification (PTM), microorganism, cells, gene or haptens.  You can provide us the immunogen, but we are also able to design and produce it.
Learn more about immunogen design.

IMMUNIZATION
The first step of the development procedure consists in injecting the immunogen into the host animals to generate an immune response, according to our exclusive 3-month protocol. Depending on the host species, the number of injections per animal has been optimized to generate the best immunoreactivity / quantity of immunogen ratio. For this step we offer you different protocol according to the two available hosts : 4 BALB/c mice or 2 Wistar rats.
Each test bleed is assayed according to the detection method developed for the project. Our immunization protocols are adjustable according to the immunoreactivity of the sera. You also will receive test bleeds so that you can run tests in your specific conditions. In case it is too low, additional injections and/or bleeds can be requested.
BALB/c MICE

Standard protocol (81 days)

7 injections

4 test bleeds

Exclusive Multisite protocol® (94 days)

+ 5 injections

+ 1 test bleed

WISTAR RATS

Standard protocol (74 days)

5 injections

3 test bleeds

FUSION
After having selected the most suitable animal according to both our ELISA-tests and your own results, we proceed to the extraction of its immunoglobulin-secreting lymphocytes. 
The fusion is performed by mixing the splenocytes with murine myeloma cells in the presence of polyethylene glycol (PEG). The resulting cells are then cultured in 96-well plates in HAT selective medium for several weeks to prevent non-fused cells from growing. A data report including the references of the project, the identification code of the selected animal as well as the culture conditions is established and sent to you.
The remaining animals are maintained in the animal facility until the cloning step of the project in case of unsuccessful fusion, allowing us to perform the fusion phase (boost, splenocytes extraction and fusion) a second time.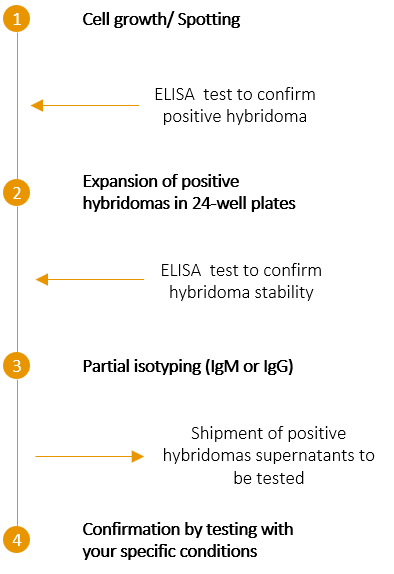 SCREENING 
SCREENING OF HYBRIDOMAS : After several days of cell culture, the plates are screened to identify growing cells, indicating the presence of hybridomas cell lines. To ensure their antibody secretion, the corresponding supernatants are assayed using ELISA tests. At the end of this step, positive hybridomas are still made of multiple clones which must be isolated.
CONFIRMATION OF HYBRIDOMA STABILITY AND SPECIFICITY : The cells from all hybridoma-containing wells are then transferred into 24-well culture plates for cell expansion. After one week, the supernatant of each well is tested again by ELISA to check for cell growth stability and antibody specificity. For each stable positive hybridoma, 1 ml of supernatant is shipped to your laboratory to run tests in your specific conditions. At this stage, we also perform a partial isotyping to identify IgG and IgM.
By comparing your results and ours, you can select up to ten positive hybridomas for freezing.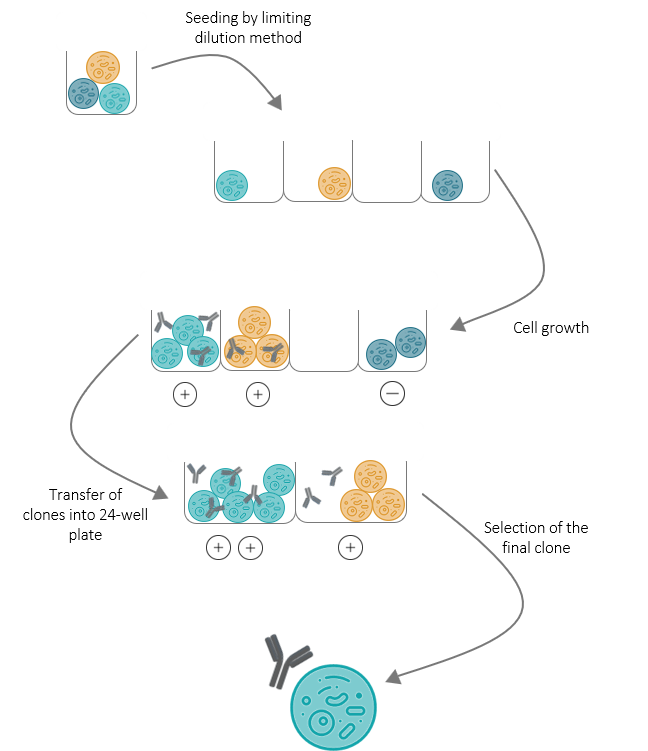 CLONING
At this stage, the selected hybridomas are still polyclonal. To isolate clones from each other, each selected hybridoma is seeded into 96-well plates using the limiting dilution method.
A visual control is then performed to check for isolated cell clusters which correspond to one single clone. After a growth period, the supernatant of cell cluster-containing wells are assayed by ELISA to identify the clones which specifically produce the expected antibody. Based on our results, positive clones are selected.
The cells from the corresponding wells are then transferred into a 24-well culture plate and expanded. The supernatants are then assayed again to check for stable antibody production. We also ship to you a sample of each supernatant to run tests in your specific conditions.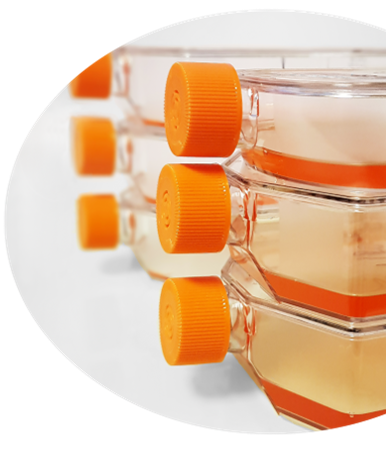 2

 IN-VITRO ANTIBODY PRODUCTION




We offer you a high quality hybridoma production whether you have a monoclonal development project with Covalab or you already have an hybridoma. 

 

 

Thanks to adapted cell culture materials and well-established procedures, we can perform the production of monoclonal antibodies in vitro from milligram to gram scale really quickly without the constraint of animal handling.

 

 

 
---
Procedure

Hybridoma cells are first expanded in culture flask or high density culture devices (for larger amounts of antibody) to get the optimal cell density needed for the production. The classical medium of production includes fetal calf calf serum (FCS) but our expertise allows us to provide a completely customized service according to your needs, without using FCS.

Supernatant containing the monoclonal antibodies is then periodically collected until the expected quantity of antibodies is obtained.

Purification on protein A or G column can be perform on request. Depending on the nature of the sample, the expected antibody concentrations are for :
• Culture in flask : from 5 to 20 µg antibody / mL supernatant
• Culture in high density device : up to 1 mg antibody / mL supernatant
Brochures