ANTIBODY

 LABELLING SERVICE
A large number of applications require antibodies to be labelled for detection. Our expertise in coupling strategies allows us to provide a full range of services of antibody labelling with various labels according to well-established procedures.

---
 
Why

 label antibodies?

 

 

Immunological applications such as ELISA, Western blot or Immunohistochemistry require the use of conjugates which are linked to the antibody. Linked to an antibody, these conjugates are useful tools allowing the detection of the protein of interest in your biological sample.
Labelling strategies include covalent linking of various bioactive molecules such as biotin, reporter enzymes or fluorophores to the target antibody.
Various enzymes can be attached to antibodies and proteins to act as signal-generating molecules via the specific reaction they catalyze.
Other non-enzymatic reporters such as fluorescent labels can be coupled to biomolecules as a means of light generation under excitation at specific wavelengths. The resulting light emission is then easily detected with suitable microscopy equipment, thus allowing the use of multiple labelled antibodies within the same experiment.
---
 
Available

 labels
BIOTIN

ENZYME

FLUORESCENT PROBES

It binds to avidin, streptavidin or NeutrAvidin proteins. This type of interaction is one of the strongest non-covalent interactions among protein-ligand interactions. Additionally, the small size of the molecule accounts for less interference with antibody function.

Biotinylation can be performed either by enzymatic or chemical methods, although chemical methods are most commonly used.

Enzymes are remarkable tools for the detection of proteins in tissues, whole cells or lysates.

Various enzymes, such as horseradish peroxidase (HRP) and alkaline phosphatase (ALP), can be attached to antibodies and proteins to act as chromogenic, chemiluminescent or fluorescent signal-generating molecules via their specific activity when put together with suitable substrates.

Fluorescent molecules also known as fluorophores are able to generate a detectable light signal in response to excitation by a source light beam at a specific wavelength. Unlike enzymes or biotin, fluorescent labels thus do not require additional reagents for detection.

This characteristic makes fluorophores extremely versatile and therefore the new standard in detecting protein location and activation, identifying protein complex formation and conformational changes, as well as monitoring biological processes in vivo.
---
 
CovaDye:

 fluorescent labelling kits & services

 
CovaDye Labelling Kits
Antibody labelling kits offer an effiscient and easy method for the fluorescent conjugation of your antibodies and molecules. The kit provides everything required for the reaction and purification ensuring reproductibility and easy conjugate process.
EFFICIENT

High coupling capacity decreasing the ratio of antibodies / fluorochromes

TIME SAVING

Reproducible and optimized workflow achievable in 30 minutes before labelling incubation

RELIABLE

Extremely stable conjugation able to label 50 μg of antibody

EFFECTIVE

High brightness and purity of the dye

READY TO USE

Kits with specific wavelengths:

488nm / 550nm / 645nm / 770nm

COST SAVING

One kit for all applications:

Flow cytometry, Immunofluorescence, Western blotting...
CovaDye Labelling Services
Covalab offers the possibility of increasing your ability to label antibodies, proteins or peptides with a wide range of fluorochromes.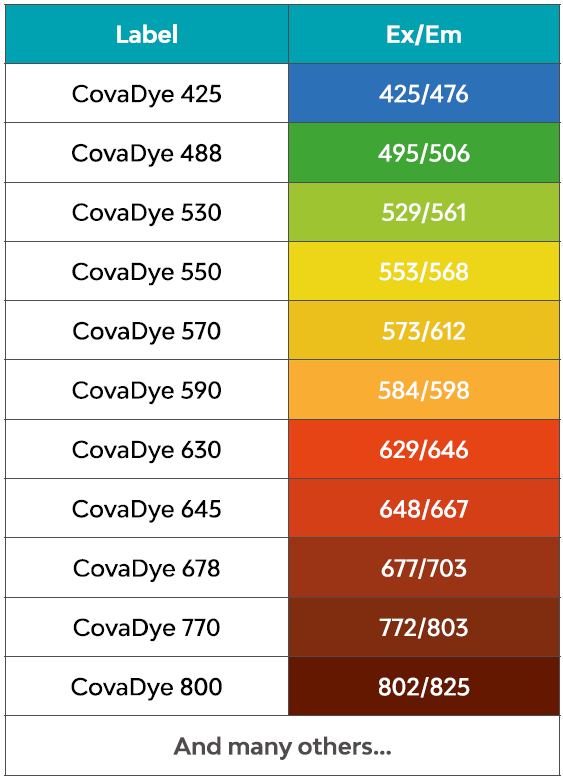 Ultra-personalized services including technical support advice from immunology experts assisting you in your project
INCREASE YOUR RESEARCH OPPORTUNITIES
High custom conjugation of a wide range of anti-bodies and other small molecules
VARIETY OF FLUORESCENT DYE
Covering the broad range from 400 to 800 nm
IDENTIFY ONLY YOUR TARGET
Low non-specific backgound
One labelling for all applications: Flow cytometry, Immunofluorescence, Western blotting...
---
 
Brochure
CovaDye fluorescent labelling kits & services
A new range of labelling kits and services: CovaDye labelling kits offer an easy and efficient method for the fluorescent conjugation of your antibody or molecule with a ready-to-use protocol. Whereas, custom CovaDye fluorescent labelling is the choice of an ultra-personalized service with a full range of wavelength that includes technical support advice from expert.
Download our CovaDye fluorescent labelling kits & services leaflet.