Screening of positive hybridomas

Screening of hybridomas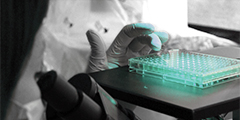 After several weeks of development, a visual control of the plates wells is performed to look for growing cells, indicating the presence of hybridomas. However, endogenous antibody-producing cells may have been collected upon extraction along with those producing the expected antibody. Fusion with myeloid cells may have then occurred, and resulting hybridomas therefore survive in HAT medium and secrete antibodies. For that reason the supernatants from the hybridoma-containing wells are assayed for specific antibody secretion using the detection method developed previously. The visual control is subsequently renewed every week for five weeks.
Alternative
After five weeks, if no hybridoma has been found, the fusion is considered unsuccessful. We then discuss about the best strategy for the project wether to perform another fusion or to terminate it.
Confirmation of hybridoma stability and specificity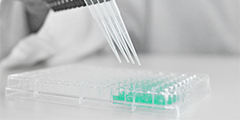 The cells from all hybridoma-containing wells are then transferred into 24-well culture plates for cell expansion. After one week, the supernatant of each well is tested again by ELISA to check for cell growth stability and antibody specificity. For each stable positive hybridoma, 1 mL of supernatant is shipped to your laboratory to run tests in your specific conditions. At this stage, we also perform a partial isotyping to identify IgG and IgM.
It's up to you!

By comparing your results and ours, you can select up to ten positive hybridomas to be cultured in 25 cm2 flasks for freezing. After expansion, you can select up to three hybridomas to perform the cloning phase.
Newsletter
Receive news, promotions and offers in your e-mail box