Fusion of splenocytes with myeloma cells

Antibody-producing cells extraction
Once you have selected the animal that seems to best respond to the immunogen, the antibody-producing cells are surgically extracted from its spleen. Please note that our experiments are undertaken by experienced and authorised staff following Health and Safety procedures, established according to the French legislation governing the use of animals in scientific experiments. All precautions are taken to minimise the distress and pain caused to the animal.
Splenocyte - Myeloma fusion

The fusion is performed by mixing the splenocytes with murine myeloma cells in the presence of polyethylene glycol (PEG). The resulting cells are then cultured in 96-well plates in HAT selective medium for several weeks to prevent non-fused cells from growing. A data report including the references of the project, the identification code of the selected animal as well as the culture conditions is established and sent to you.
Our guarantees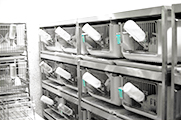 The remaining animal(s) is (are) maintained in the animal facility until the cloning step of the project in case of unsuccessful fusion, allowing us to perform the fusion phase (boost, splenocytes extraction and fusion) a second time.
Newsletter
Receive news, promotions and offers in your e-mail box