Polyclonal Antibody Development Service
About Polyclonal Antibody Development Projects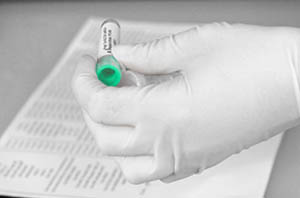 Polyclonal antibody development projects are carried out in both our laboratories and our SPF animal facility.
According to a specific protocol, the animal undergoes a series of injections of the desired immunogen at predefined time intervals. This triggers a reaction from its immune system and the subsequent production of antibodies directed against the foreign molecule. Resulting antibodies are then released into the blood stream.
At the end of the protocol, the whole blood is collected (except goat for which about 300 mL are sampled). Serum, which contains a large quantity of proteins including antibodies, is separated from blood cells and clotting factors by centrifugation. Antiserum can then be used in various applications for which low specificity and purity are not a concern.
However, even if the protocol applied for the immunisation step is carefully established to maximise and maintain the immune reaction at the highest level, each project is unique and has its own characteristics. Immunoreactivity should then be monitored during the protocol in order to adapt the immunisation parameters if the antibody titre reveals itself low.
Besides, antisera contains not only antibodies directed against the immunogen, but also both endogenous non-specific antibodies and other non-immune proteins. Purifying the serum allows then to dramatically increase the specificity of the final antibody solution, which can be necessary for sensitive applications such as IHC.
If you need more information about polyclonal antibody development, do not forget to see our Frequently Asked Questions section or feel free to contact us.
Standard Polyclonal Project
Standard Polyclonal Project is our basic and most cost-effective service pack to generate polyclonal antibodies against your desired immunogen. This service includes:

Immunogen must be carefully defined according to specific factors. Parameters such as the expected final application or your constraints of cross-reactivity, among others must be taken into account. Depending on the level of specificity you require for your antibody, we can use various types of immunogens…
Depending on the species from which comes the immunogen, the final volume of serum you require and other constraints from your research project, we propose a wide range of host species. Rabbit and mouse are the most used hosts, and can especially be used to develop anti-post-translational modification antibodies.
Every species has its own immunoreactivity towards an antigen. The frequency, quantity and volume of injections must then be carefully adapted. Our strong experience has allowed us to optimise protocols for each species, thus maximising the probability to generate high amounts of specific polyclonal antibodies.
All Inclusive® Polyclonal Project
All Inclusive® Polyclonal Project includes the standard service pack as well as useful additional services to improve your antibodies efficiency:

Immunisations may not be as effective as expected. Knowing if the immunoreactivity increases sufficiently over the immunisation protocol can be very useful. To achieve this, intermediate test bleeds must be sampled and assayed by ELISA for antibody titration. Only with these results can we give you relevant advice and help you make the right decisions.
Serum is composed of multiple protein types including antibodies. Although crude serum may be used as is in numerous applications, some require highly pure and specific antibodies. Specificity can be dramatically increased by isolating antibodies from other components. Depending on the nature of the immunogen, the most adapted technique will be applied.
To go further - Related antibody services
Newsletter
Receive news, promotions and offers in your e-mail box