Custom Monoclonal Antibody
About Custom Monoclonal Antibody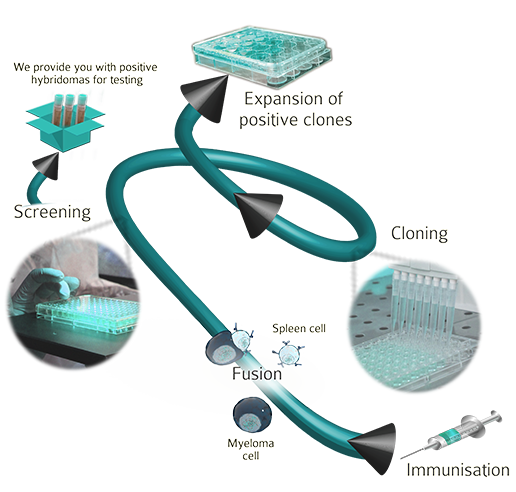 We provide you with a complete service to develop your monoclonal antibody, from immunogen design to cell clone(s) shipment in dry ice. Our facilities and equipment cover animal housing, custom hybridoma development, screening and cloning as well as in-house storage of your cell clones in liquid nitrogen.
Like polyclonal antibodies, the first step of the project consists in immunising an animal with the desired immunogen according to an adapted protocol. At the same time, a specific immunoassay against the immunogen is set up to ensure the monitoring of the immune response during the immunisation.
As soon as specific criteria of immunoreactivity are reached, we proceed to the surgical extraction of the splenocytes. However these cells have a very limited life span when cultured in vitro, and are therefore fused with myeloid cells. The resulting cells are called " hybridomas ", and inherit both antibody-producing capacity from splenocytes and immortality from myeloid cells. Hybridomas are then selected to only retain those which secrete the expected antibody.
A cloning step is finally performed to isolate positive clones from each other and select those which exhibit the highest productivity and stability. Each new cell line produces monoclonal antibodies of interest, and can be used for larger scale production.
Monoclonal Antibodies Development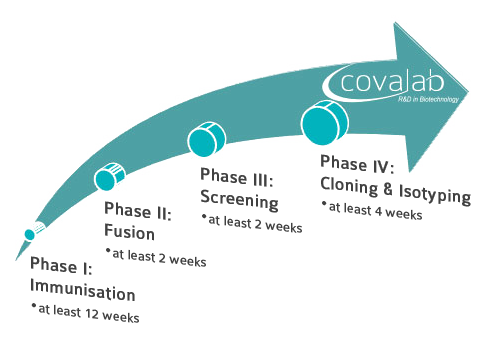 Each project is discussed thoroughly before starting the protocol to be sure to meet your needs. We also provide advice and technical expertise throughout the project to help you make the right decision at each step. Our experience can be of great value for you especially upon selecting:
The procedure to develop monoclonal antibodies includes the five following phases. At the end of each phase, the results are discussed with you before moving on to the next one. A complete report displaying all project data is provided to you at the end of the project.
Important Notes
The success of monoclonal antibody development projects depends on the successful immunisation and selection of animals. Hence, it is very important to analyse the polyclonal antibodies (e.g. animal antiserum) for the presence of antibodies that will be used in a particular technique. For example, if the antibodies are expected to be used in western blotting and / or immunochemistry, it is absolutely necessary to confirm that the antiserum does recognise the corresponding antigen from appropriate tissues or cell extracts.
This is particularly important when developing anti-peptide monoclonal antibodies. We cannot guarantee that the monoclonal antibody will work in a given technique, for antibody-secreting clones are selected using antigen-coated plates (ELISA). Thus, we strongly advise you to run further tests, according to the application you wish the antibody to work in.
That is why we insist to thoroughly discuss each project before starting the protocol. It is very important to coordinate together the timely testing of mouse serum and hybridoma selection at various stages of the development.
If you need more information about monoclonal antibody development, do not forget to see our Frequently Asked Questions section or feel free to contact us.
Our Guarantees
We do not divulge any information about the immunogen and the antibodies to a third party without your written consent.
We return to you any remaining immunogen, corresponding anti-sera, antibodies and all the hybridomas in our possession at the end of the project.
You own all rights including intellectual property rights over the hybridomas we developed for you.
See our General Terms and Conditions of Sale page to learn more.
To go further - Related antibody services
Newsletter
Receive news, promotions and offers in your e-mail box